Seeing Red
The Council for British Archaeology has joined forces with the Seeing Red campaign to adapt and promote their incredibly successful guide for use within volunteer community archaeology, history and heritage groups.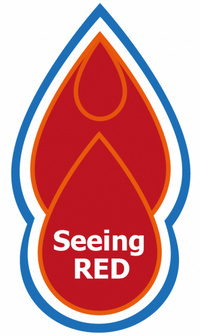 What is Seeing Red?
Seeing Red is a campaign to improve the provision of menstrual hygiene and welfare facilities on archaeological sites. The campaign to date has mainly focussed on the commercial archaeology sector and the messaging has been geared towards commercial organisations of all sizes, supporting both employers and employees.
The campaign offers written guidance and background to the issues, alongside access to a free menstrual hygiene and welfare pack (based on availability). Amazing!
What is the CBA involvement?
The CBA approached the Seeing Red team to offer support to adapt and promote the guide for volunteer community archaeology, history, and heritage groups. The CBA will also be working with Seeing Red later in the year to develop guidance for youth clubs, including the YAC.
The funding for this project has been made available through the Karen Gavin Archaeologist Memorial Fund. Karen was a community archaeologist and felt very strongly about this issue. After discussing various projects with her husband, Tony, he decided to put his full support behind this campaign.
At the Festival of Archaeology 2021, the founder of Seeing Red, Amy Talbot gave a talk about what the campaign is, why it is necessary and what volunteer community groups can do to provide improved menstrual hygiene and welfare facilities during archaeological fieldwork. You can now watch a video of this talk on YouTube.
Who is behind the Seeing Red Campaign?
Amy Talbot is a Heritage Consultant within the renewable energy sector. In 2018 she and three colleagues from the CBA-YAC Pontefract Club formed the Mentoring for Women* (inclusive) in Archaeology and Heritage (MWAH) organisation which currently has over 1700+ members across the world who all work in archaeology and heritage related disciplines.
In 2019 she created the Seeing Red menstrual hygiene movement in archaeology, after 7 years of poor hygiene facilities on sites and being unable to safely menstruate. MWAH provided the launchpad for Seeing Red as it was only through asking the group if anyone else was struggling, that the horror stories of poor menstrual facilities across most commercial, academic, and community groups came out. Seeing Red was officially launched in 2019 and successfully began in 2020. Despite the pandemic, Seeing Red has been supported by, Prospect Archaeologists Union, AshTree Heritage, and British Archaeological Jobs and Resources (BAJR) in creating a free downloadable BAJR guide for commercial archaeological units to use in supporting their menstruating staff. As well as by the Federation of Archaeological Managers and Employers (FAME) to encourage better menstrual hygiene and welfare across commercial archaeology sites, using on-site hygiene packs.
As of 2021, every FAME registered organisation has received a free menstrual hygiene and welfare pack from Seeing Red, with countless more sent out to staff and individuals across the commercial archaeological sector.