Archaeology Matters Pledge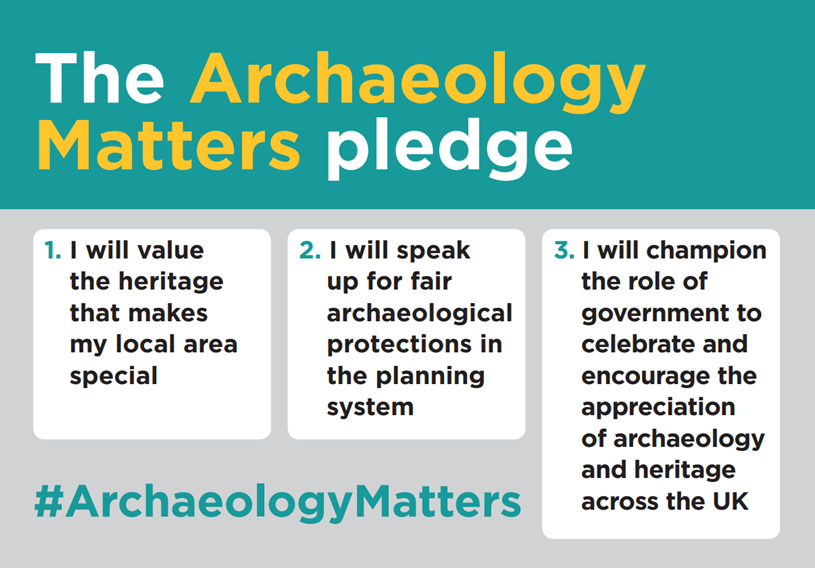 Fill in your pledge cards now!
Download as many cards as you need
Distribute to your group members, colleagues, or friends who care about heritage
Fill in the cards with a personal message
Send them to your local MP or Councillors
Let us know who you've contacted and if they respond!
As part of the ongoing Power of Archaeology campaign, we've produced pledge cards for our supporters to use and distribute. The cards are designed to be filled in by you with a personal message relating to why you care about archaeology and heritage, and then invite your MP/Councillor to respond to 'sign the pledge'.
Filling in the card is an easy way to share a personalised message with your parliamentary or local council representative. It can include anything relevant you want to add, but we have shared some tips below.
Anyone can fill these cards in, whether you are a professional who works in heritage or archaeology, a local group member, or simply an interested individual. You can mention a specific site or simply express general care for the past - all that matters is you show them that people care.
You can download the card to print at home using the link below. Alternatively, if you would like us to post you a pack of postcards please email us at [email protected].

Archaeology Matters pledge card download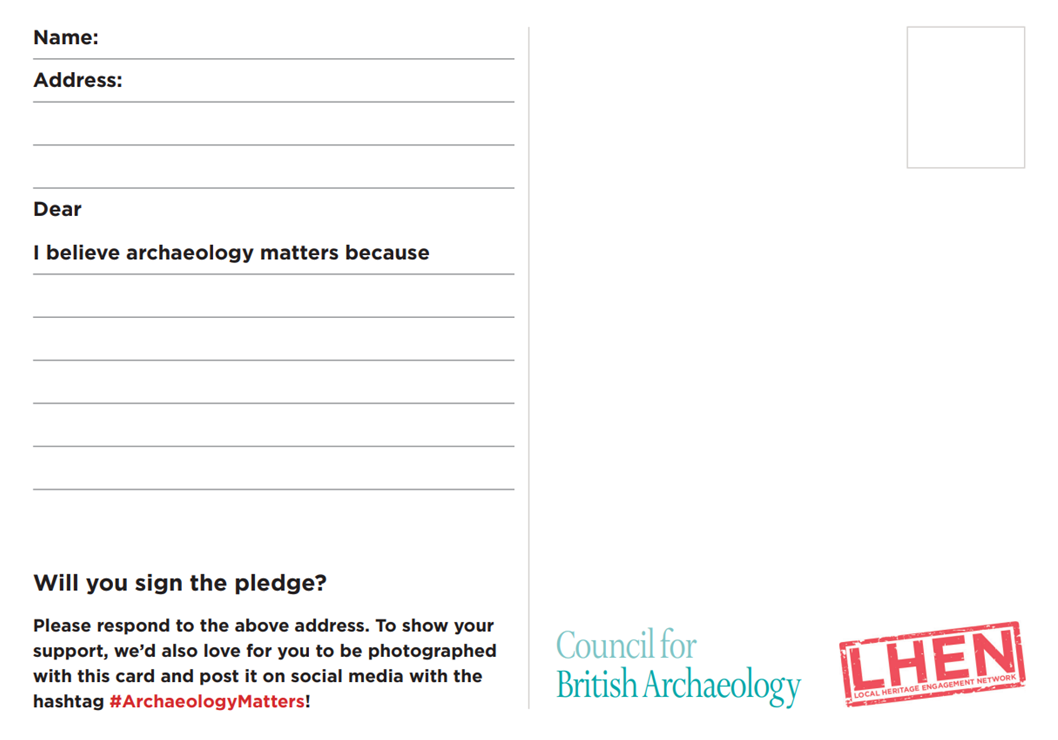 Tips:
Include your name and address: This is vital to ensure that your message is read as MPs require evidence you live in the constituency/ward they represent. It is also needed so they can respond to you!
Include personal or local information in your message: A personal message is more likely to be impactful than something general.
Want to say more? Do it! Staple the card to a letter: The postcard does not have to stand alone, and may in fact be more useful as an ice-breaker for a real discussion about local heritage!
Include questions or 'asks': For example 'can you show your support for X site or building in X town'?
Follow up: It can take a few weeks to get a response from your MP, but it is important that you follow up whether they respond or not. Sharing the Pledge card (or a photo of your card) on social media can be a great way to add a little bit of public 'performance' and some weight to your request!