THE SITE
The Lawn is an important site in the heart of historic Lincoln which has previously only been subjected to small-scale excavations. Located 150m to the west of Lincoln's former Roman and Medieval upper walled city, the site sits on the edge of the limestone ridge that overlooks the Witham Valley. Small-scale excavations in the grounds of The Lawn were undertaken in the 1980s, and they uncovered evidence of possible pre-Roman activity in the area. Additionally, a small Roman urn excavated from the site in the mid-nineteenth century indicates that there might be a Roman cemetery at The Lawn. Two possible Roman roads, large assemblages of first- and second-century pottery and other Roman finds from pits and dumps were also uncovered nearby. The finds from the 1980s excavations at The Lawn also suggest that this site could provide important archaeological evidence for the transition from the Roman to the Early Medieval period.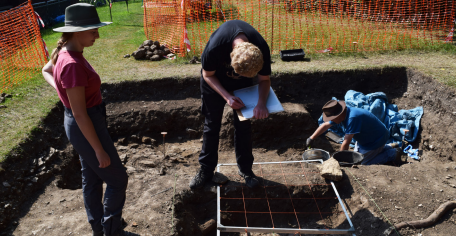 GENERAL INFORMATION
Duration: The field school will last four weeks from Monday 20 June 2022 through to Friday 15 July 2022. You can book onto our field school for an Accredited 20 credit module (4 weeks) or for the Archaeological Excavation and Survey course (2 weeks) as either a residential or non-residential participant (see p.10).
Affiliation location: Bishop Grosseteste University, Longdales Road, Lincoln, Lincolnshire, England, LN1 3DY
Timetable: The digging week begins on a Monday with full days in the field through to Friday. Weekends and evenings will be free time for participants. Working days run from 09.00 to 16.30 with a break for lunch and tea breaks throughout the day (see below).
Field School Equipment: Please bring your own trowel, gloves, water bottle, notepad, and stationery (further details will be circulated to those who book to attend the field school). All other equipment and materials will be provided.
Clothing: When onsite you will need to wear comfortable clothing that is suitable for being on an archaeological site, sturdy shoes and layers that are suitable for both hot and cold conditions as well as wet weather. As you be outside for most of the day, you will need to bring a sunhat and sunscreen.
Onsite Facilities: There will be toilet facilities onsite. We will provide tea and coffee making facilities. You will need to bring your own food and water with you to site each day.
Local Facilities: The Lawn is in the heart of uphill Lincoln, with café and restaurant facilities nearby. There are also a range of shops selling food and essential supplies within walking distance of the site.
Fitness Requirements: All participants will need to have an up-to-date tetanus injection prior to attending. There are no set minimum fitness expectations for the excavation. We undertake an inclusive approach to make the field school accessible to participants with a diversity of needs. Please get in touch with us to discuss your circumstances.
Discounts: We will be able to provide a number of discounts for members of the armed forces, emergency services, and NHS. Please get in touch if you would like to find out more.
ACCOMMODATION AND FOOD
There are a variety of different places to stay in Lincoln from luxury hotels, to quaint bed and breakfasts, or even campsites. However, if you decided to stay with us at BGU then you will be accommodated in the Constance Stewart Halls. Each room is equipped with its own washbasin, wardrobe, shelving, desk with chair and easy chair, 2 electric sockets and bed with underneath storage. On the ground floor are fully accessible bedroom and bathroom facilities. Each floor is provided with communal kitchens with living areas, all fully fitted with microwave, cooker, fridge, freezer and communal seating.
All accommodation is self-catering, and food will not be provided. Tea and coffee making facilities will be provided, but you must bring drinking water and a packed lunch to the site each day.
If you would like to arrange your own accommodation, please see Visit Lincoln's website for recommendations: www.visitlincoln.com/stay/
DAILY TIMETABLE
8.30 - 9.00
Arrive on Site
9.00 - 9.30

Morning briefing by Site Director;

Prepare for the day's work

9.30 - 11.00
Excavation/Finds Processing/ Surveying
11.00 - 11.15
Mid-morning tea break
11.15 - 12.45
Excavation/Finds Processing/ Surveying
12.45 - 13.30
Lunch
13.30 - 14.45
Excavation/ Finds Processing/ Surveying
14.45 - 15.00
Mid-afternoon tea break
15.0 - 16.00
Excavation/ Finds Processing / Surveying
16.00 - 16.30
Pack up site
16.30
Leave site
FAQS
How do I get to the Field School? Participants will be expected to make their own way to the field school site. Further information on exact times and meeting points will be sent to participants prior to the start of the field school.
In what language is the course taught? The course will be taught in English.
Do I have to have prior experience of field work to participate in the field school? No, the field school is suitable for all levels of experience, from beginners onwards.
Is there a minimum age for participants? We are able to accept children from the age of 14 to 17 as long as they are accompanied by a responsible adult at all times. The accompanying adult will receive a 50% discount on their non-residential course fee.
I have mobility issues, will I be able to participate? We aim to make the field school as accessible as possible and we have extensive experience supporting a diversity of needs. Please get in touch to discuss your individual circumstances.
If you have any further questions, please do not hesitate to get in touch with us at: [email protected]