Student and Early Careers Conference 2023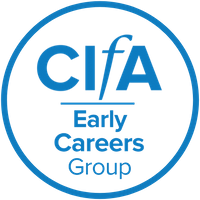 Following the success of our 2021 and 2022 conferences, the CIfA Early Careers Special Interest Group and the Council for British Archaeology hosted the third digital Early Careers Conference during the Festival of Archaeology 2023.
This digital conference aims to platform students, early career archaeologists and heritage professionals, and to give them the opportunity to gain presentation experience.

Who is it for?
SPEAKERS: The conference speakers are those studying archaeology or an associated subject such as osteoarchaeology, anthropology, or cultural heritage management, undertaking an apprenticeship or training scheme, or in early career employment in archaeology (contributors should be less than 36 months into their archaeology career).
AUDIENCE: We always hope the conference audience will comprise anyone who has an interest in the range of topics that will be discussed and/or those who wish to support early career archaeologists and heritage professionals in a welcoming and friendly environment.
---
Conference Schedule and Sessions
Three strong themes emerged from the submitted contributions:
The Tangible to the Intangible: Heritage, Communities, and Equitable Futures
Networks of Trade and Exchange: From Indo-Roman Relations to Illicit Antiquities
Life and Death: Bioarchaeological and Funerary Approaches
New for this year: we had additional contributions available as pre-recorded talks and poster+blog presentations on a whole host of different topics. You can take a look at the posters here:

Can I watch the talks from the 2023 conference?
The conference talks were recorded and, where permission was granted, are in the process of being uploaded to the CBA's YouTube channel.
You can find last year's recordings on the Early Careers Conference 2022 Playlist and further examples below.