Early Careers Conference 2023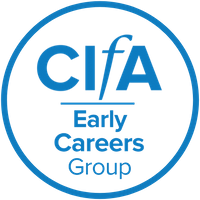 Following the success of our 2021 and 2022 conferences, the CIfA Early Careers Special Interest Group and the Council for British Archaeology are hosting another digital Early Careers Conference during the Festival of Archaeology 2023.
This digital conference aims to platform students, early career archaeologists and heritage professionals, and to give them the opportunity to gain presentation experience.

Who is it for?
The conference speakers are those studying archaeology or an associated subject such as osteoarchaeology, anthropology, or cultural heritage management, undertaking an apprenticeship or training scheme, or in early career employment in archaeology (contributors should be less than 36 months into their archaeology career).
We hope the conference audience will comprise anyone who has an interest in the range of topics that will be discussed and/or those who wish to support early career archaeologists and heritage professionals in a welcoming and friendly environment.
---
Is there a theme or preferred presentation format?
There is no set theme. Instead, participants are encouraged to present on any topic of their choice.
The aim is to make as many people as possible feel comfortable contributing, and with this in mind, we will be accommodating a range of presentation methods. These will include:
Short lectures
Pre-recorded presentations
Posters
---
How do I take part?
If you are interested in participating, please submit a short abstract to [email protected], by Monday 9am June 5th.
We have created a handy guide to writing a conference abstract should you need it.
In addition to your abstract please let us know:
if you have presented before,
the method by which you would like to present
state if you would be interested in chairing a session
---
Chairing a Session
We have also created a short intro to Chairing a Session should you wish to find out more.
---
Call for Contributions
You can download the Call For Contributions in full here.

Can I watch the talks from the 2022 conference?
The conference talks were recorded and, where permission was granted, are now uploaded to the CBA's YouTube channel.
You can find them on the Early Careers Conference 2022 Playlist and further examples below.