Early Careers Conference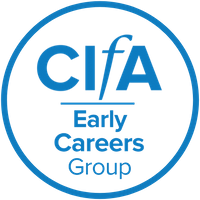 Following the success of last year's conference, the CIfA Early Careers Special Interest Group are hosting another digital Early Careers Conference as part of this year's Youth Takeover Day during the Council for British Archaeology's Festival of Archaeology (16-31 July 2022).
This digital conference aims to platform students and early career archaeologists, and to give them the opportunity to gain presentation experience.
Date: 27 July 2022
Time: 3 - 9pm

Who is it for?
The conference is open to anyone studying archaeology or an associated subject such as osteoarchaeology, anthropology, or cultural heritage management, undertaking an apprenticeship or training scheme, or in early career employment in archaeology (first 18 months).
---
Is there a theme or preferred presentation format?
There is no set theme. Instead, participants are encouraged to present on any topic of their choice.
The aim is to make as many people as possible feel comfortable contributing, and with this in mind, we will be accommodating a range of presentation methods.
These will include:
Short lectures (see example below)
Pre-recorded presentations
Posters
---
What will I get out of contributing?
As there is no theme, participants will be able to present on any archaeological subject of their choice, creating a unique opportunity for individuals to showcase their specific interests, research or involvement in the sector.
Developing skills and confidence in this area could positively impact your future career. The flexible and relaxed nature of this conference makes it an ideal platform for any student or early career archaeologist to gain presenting experience.
We also welcome participants where English is not their first language.
---
What support will I get?
Ahead of the conference, a mentoring session with tips and advice on presenting and writing will be offered. A more experienced archaeologist will be on hand on the day to support each session if help is needed.
More details to follow.

How do I take part?
If you are interested in participating, please submit a short abstract to [email protected], by Monday 9am June 20th.
We have created a handy guide to writing a conference abstract should you need it.
In addition to your abstract please let us know:
if you have presented before,
the method by which you would like to present
state if you would be interested in chairing a session
---
Chairing a Session
We have also created a short intro to Chairing a Session should you wish to find out more.
---
Call for Contributions
You can download the Call For Contributions in full here.