Early Careers Conference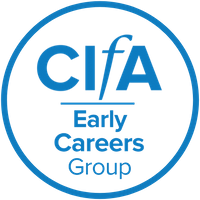 Following the success of last year's conference, the CIfA Early Careers Special Interest Group are hosting another digital Early Careers Conference during the Council for British Archaeology's Festival of Archaeology (16-31 July 2022).
This digital conference aims to platform students and early career archaeologists, and to give them the opportunity to gain presentation experience.
Date: 27 July 2022
Time: 3 - 9pm
REGISTRATION IS NOW CLOSED

Who is it for?
The conference speakers are those studying archaeology or an associated subject such as osteoarchaeology, anthropology, or cultural heritage management, undertaking an apprenticeship or training scheme, or in early career employment in archaeology (first 18 months).
We hope the conference audience will comprise anyone who has an interest in the range of topics that will be discussed and/or those who wish to support early career archaeologists and heritage professionals in a welcoming and friendly environment.
---
Is there a theme or preferred presentation format?
There is no set theme. Instead, participants have been encouraged to present on any topic of their choice. We have been able to identify several strong themes emerging from the abstracts, including archaeological ethics, the conservation and destruction of heritage assets and inclusion, diversity and equity in archaeology and heritage.
The aim is to make as many people as possible feel comfortable contributing, and with this in mind, we offered a range of presentation styles, including short 10-15 minutes presentations and pre-recorded material like the example below.
---
Conference Schedule and Programme

How do I sign-up to attend the conference?
The conference will be held online via Zoom. There is no booking fee.
We understand that people may move in and out of the conference, attending sessions that are of most interest to them; and do not expect all those who book to attend the full 6 hours.
REGISTRATION IS NOW CLOSED