The BRP's training is open to people of all skill-levels and abilities, with particular interests accommodated where possible. The BRP recommend students attend for at least two weeks to get a well-rounded experience of the training on offer.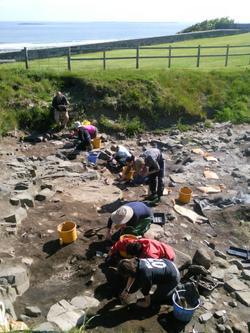 What is the Bamburgh Research Project?
The Bamburgh Research Project (BRP) is an independent, non-profit archaeological project investigating Bamburgh Castle in Northumberland, one of the most important archaeological sites currently under excavation in northern England. Since 1996 we have been working to uncover the history of this fascinating castle and its environs, from prehistory to the present day. We aim, through our work, to bring the past to life for everyone.
Where will I be digging?
This season the BRP are excavating and surveying at St Oswald's Gate, part of the medieval outworks at Bamburgh Castle. This is the only area of the castle that remains significantly a medieval ruin! Last season the BRP uncovered the outline of a lost medieval tower and they will continue its exploration this year.
Click here to read more about the work of the Bamburgh Research Project on their blog.
Contact Details: [email protected]