Gloucestershire Archives are holding their first ever heritage careers focus day at the Gloucestershire Heritage Hub with key note speaker, Nick Barratt of BBC's 'Who Do You Think You Are?'.
This event is aimed at people wanting a career in heritage as well as those interested in a less formal arrangement, for example, volunteering. All ages and abilities are welcome.
Get advice and access to relevant contacts and links. Chat, learn about training paths and roles, 'have a go' opportunities, demonstrations, films and behind the scenes tour of Gloucestershire Archives.
This event is an excellent opportunity to see what archivists, conservators, museum curators, librarians, archaeologists and other heritage based professionals do on a day to day basis. Come and chat with Gloucestershire Archives and learn about training paths and roles. There will also be 'have a go' opportunities, demonstrations, films and a 'behind the scenes' tour of Gloucestershire Archives.
Booking onto talks and workshops is required due to capacity.
Talks of the day
11:00 - Working for the National Trust with Julie Reynolds (30 mins) Book Now
Julie Reynolds is a museum curator with the National Trust and has also worked as a Museums Development Officer for Gloucestershire County Council, Bristol City Council and the National Museum of Wales, Cardiff.
13:00 - Why Heritage Matters with Nick Barratt (1 hour) Book Now​
Dr Nick Barratt is an author, broadcaster and historian specialising in public history, best known for his work on the BBC series Who Do You Think You Are. He is the Director of Learner and Discovery Services at The Open University, a Fellow of the Royal Historical Society and a Teaching Fellow of the University of Dundee, as well as serving on the Board of the National Extension College. Nick's most recent publication, The Restless Kings, tells the story of Henry II and his quarrelsome family.
15:00 - Q & A session on the joys of heritage volunteering (40 mins) Book Now
Session led by Vicky Thorpe, archivist and former member of Gloucestershire Archives staff, now a volunteer with the Gloucestershire Family History Society (GFHS). Panel includes representatives from GFHS, Sue Webb (Gloucestershire Police Archive co-ordinator) and Chris Hill (Jet Age Museum) and other heritage associations.
Workshops
Examine my bones - 10:30 & 14:15
Meet 'Cirencester Man' and learn about heritage opportunities on offer at Cirencester College. (30 mins)
10:30 - Session 1 Book Now
14:15 - Session 2 ​Book Now
The art of protective packaging, 11:30 Book Now
Learn how to make book jackets and folders to properly care for your cherished items, with conservation advice. (45 mins)
Mysteries of the Museums - 10:30 & 14:15
Learn how to look at objects and figure out use, purpose and care. (30 mins)
10:30 - Session 1 Book Now
14:15 - Session 2 ​Book Now
Exhibitions & Tours
(no booking required)
12:00 & 15:00 - Behind the scenes tours of Gloucestershire Archives & Heritage Hub site.
Treasures from the Archives.
All day - Treasure from the Archives exhibition. Discover collections held by Gloucestershire Archives.
Featuring careers advice & information from:
Gloucestershire Archives
Gloucestershire Family History Society
Gloucestershire Libraries
Gloucestershire City Museums
Stroud Museum in the Park
Gloucester Cathedral Archives
Cheltenham College Archives
The John Moore Countryside Museum
Canal and River Trust
Cotswold Archaeology
The National Trust
Jet Age Museum
Dean Heritage Railway
Gloucestershire Constabulary
Plus freelance experts; experienced heritage volunteers; college and apprenticeship trainers; members of the Archives and Records Association.
A selection of films will be shown from Gloucestershire Archives, Gloucestershire Libraries, Museum of the Park, and the John Moore Museum on repeat 10:00 - 16:00.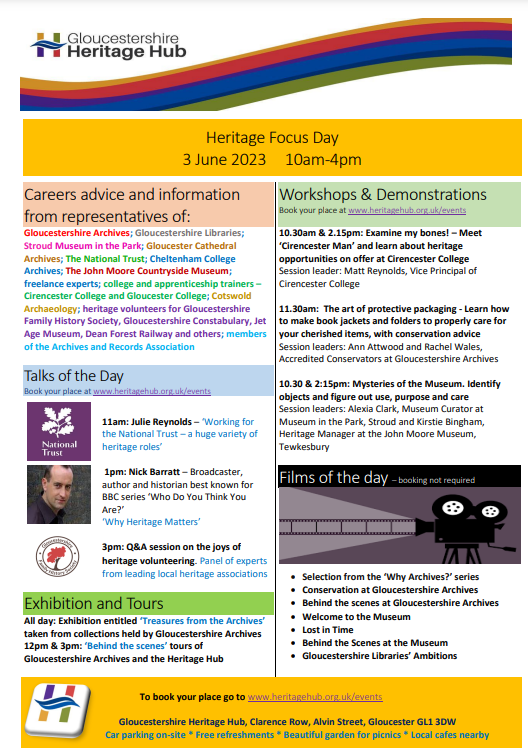 Where?
Gloucestershire Heritage Hub, Clarence Row, Alvin Street, Gloucester, GL1 3DW.
Car parking on-site, Free Refreshments, Beautiful Garden & Picnic Area, and Local Cafes nearby.