Winners announced for the Archaeological Achievement Awards 2022 in a ceremony held at Dublin Castle
The winners of the 2022 Archaeological Achievement Awards were announced in a jubilant ceremony, held on the 29th of November at Dublin Castle, hosted by Ireland's National Monuments Service in partnership with the Office of Public Works and in the presence of the Minister of State for Heritage and Electoral Reform Malcolm Noonan T.D.
This was the first time the awards were held in-person since their rebranding as the Archaeological Achievement Awards, to include Ireland alongside Great Britain. Indeed, the awards seek to celebrate the role of archaeology and the achievements of the archaeological community in relation to key areas which are very much shared across the islands of Britain and Ireland: society, identity, place, health and wellbeing. The categories, which are based upon these cross cutting themes, seek to celebrate innovation, public dissemination and presentation, engagement and participation, learning, training and skills, and early career archaeologists.
As the first awards ceremony held in person since the pandemic, the evening was also a key opportunity for colleagues to catch up, make new connections, and enjoy a much-deserved celebration of the best of the UK and Ireland's archaeological sector.
Winners in all six categories – including an overall outstanding achievement award - were acclaimed in the ceremony led by National Monuments Service's Chief Archaeologist Michael MacDonagh, after several weeks of deliberation amongst the judges, with the quality of nominations being such that highly commended nominees were also chosen for most categories.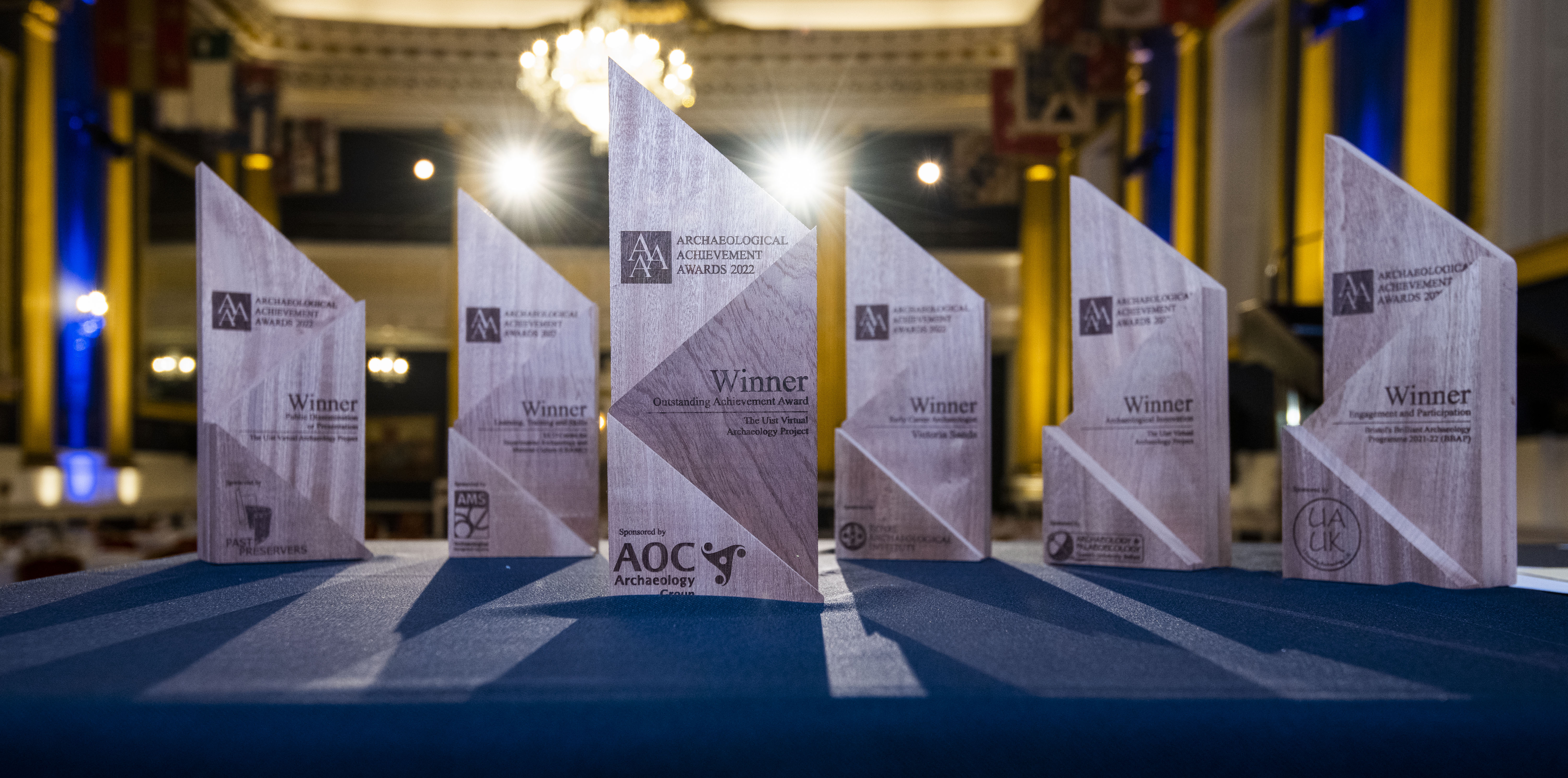 Three awards, in the Archaeological Innovation, Public Dissemination or Presentation and Outstanding Archaeological Achievement categories, were scooped up by UHI Outer Hebrides and Comhairle nan Eilean Siar's "Uist Virtual Archaeology Project", which seeks to establish innovative and creative digital routes into Uist's rich archaeological heritage. The project culminated in the creation of the Uist Unearthed app, containing Augmented Reality (AR) reconstructions of archaeological sites along the Hebridean Way, complemented by an interactive multimedia exhibition.
The full list of winners and highly commended nominees is:
Archaeological Innovation - Sponsored by Queen's University Belfast
Winner: The Uist Virtual Archaeology Project
Engagement and Participation award - Sponsored by University Archaeology UK
Winner: Bristol's Brilliant Archaeology Programme 2021-22 (BBAP)
Highly Commended: Y Heritage - Make A Splash!
Learning Training and Skills – Sponsored by Archaeological Management Solutions (AMS Archaeology)
Winner: UCD Centre for Experimental Archaeology and Material Culture (CEAMC)
Public Dissemination or Presentation – Sponsored by Past Preservers
Winner: The Uist Virtual Archaeology Project
Highly Commended:
Transforming the Roman Townhouse for wider audiences to enjoy
Scotland Digs 2022
Early Career Archaeologist – Sponsored by Royal Archaeological Institute
Winner: Victoria Sands
Highly commended: Megan Schlanker
Outstanding Achievement Award – Sponsored by AOC Archaeology
Winner: The Uist Virtual Archaeology Project
Highly Commended: Bristol's Brilliant Archaeology Programme 2021-22 (BBAP)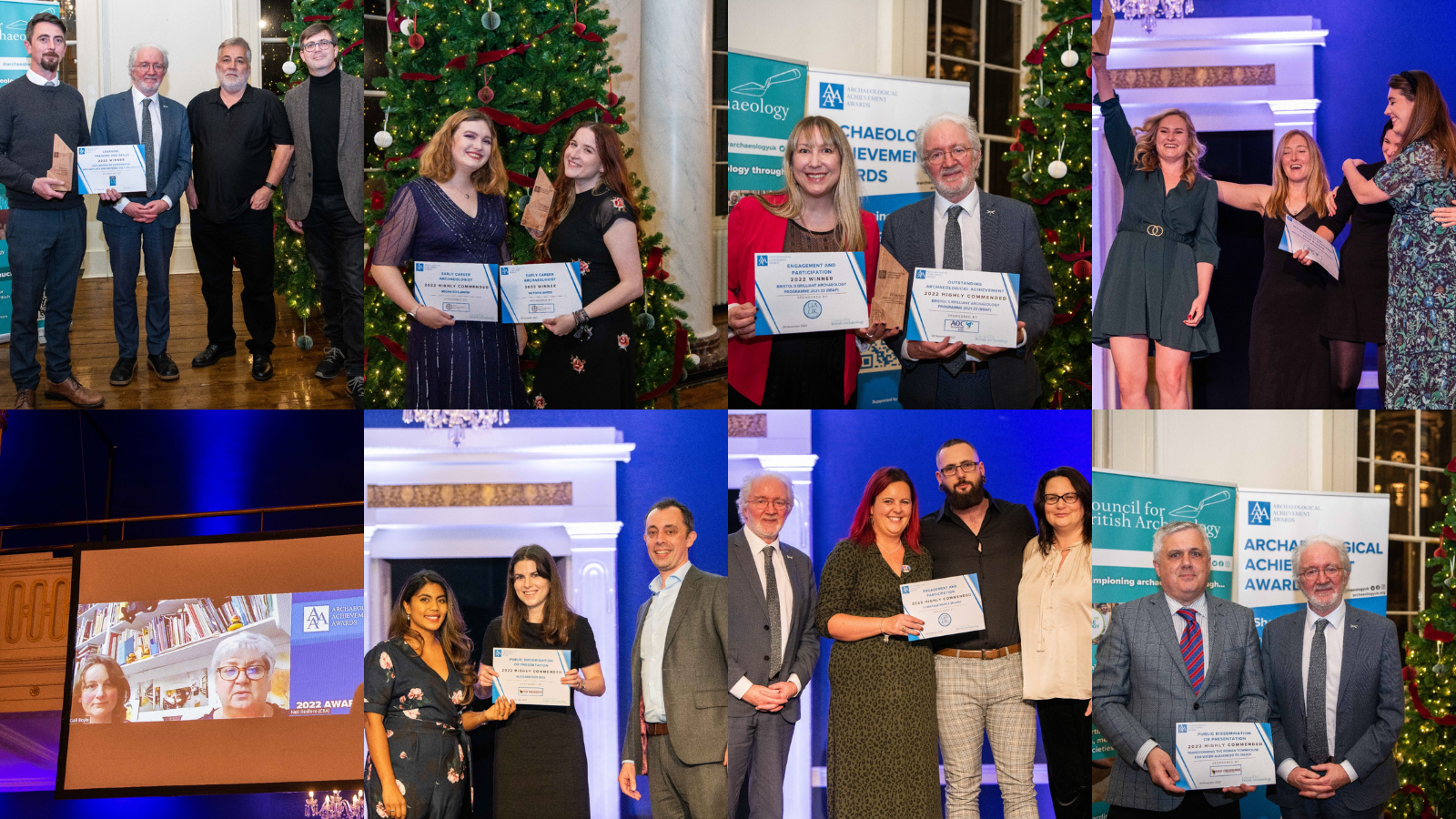 Neil Redfern Chief Executive of the CBA, said: "From all of us here at the Council for British Archaeology, we would like to offer a huge congratulations to all of our Archaeological Achievement Award winners, highly commended nominees, and shortlistees. We'd like to thank all those who travelled from near and far to celebrate, with much enthusiasm, the very best of archaeology across the island of Ireland and the British Isles, in the absolutely stunning setting of Dublin Castle.
It was truly an honour to be able to recognise the achievements of our sector over the last year, from contributions to knowledge development and research, work with local communities, to the achievements of those at the start of their careers, the dissemination of archaeological knowledge and exciting innovations. We received so many high-quality nominations, our judging panel found it difficult to whittle them down to the final few - we'd like to express our heartfelt thanks to them for their hard work, as well as all of the organisations who supported and provided key funding for the awards.
In addition to demonstrating the sector's incredible achievements, the Awards have also allowed us to promote and reward high professional standards, as well as showcasing the wider benefits of archaeological projects to society. We hope that by showcasing the positive impact of archaeology, we will also be able to widen understanding of, and participation in, our sector."
Michael MacDonagh, Chief Archaeologist in Ireland's National Monuments Service said: "It was a real honour for us to host this year's awards in Dublin, a wonderful celebration of archaeological achievement across Britain and Ireland. Our congratulations to all those who made applications were shortlisted, commended and won and our thanks to CBA who were wonderful partners to work with in the organisation of the event."
The judging panel was made up of representatives from across the archaeological community, chaired by the European Society of Black and Allied Archaeologists (ESBAA)'s Jeannette Plummer Sires, who said: "The awards are not only a moment for celebration but also a time to be utterly inspired by one another; by the drive of our early career colleagues, by the ingenuity of innovation propelling archaeology into the future, by the skill required to train the new generations of archaeologists, and by the commitment involved in reaching wider audiences through public dissemination and engagement. It's a thrilling reminder that we have much to learn from each other and that there are so many new stories yet to discover and share. Bringing people together and telling stories is something humans have always done and it's exciting to find new ways of continuing and celebrating that tradition through archaeology."
Find out more about the awards and winning projects here.
Support for the awards was provided by Historic England, National Monuments Service Ireland, Historic Environment Scotland, Cadw, Department for Communities Northern Ireland, the Chartered Institute for Archaeologists (CIfA), the Association of Local Government Archaeological Officers (ALGAO:UK), the Society of Antiquaries of Scotland, the Institute of Archaeologists of Ireland (IAI), National Museum of Ireland, Dublin City Council and Transport Infrastructure Ireland.
The Outstanding Archaeological Achievement Award was sponsored by AOC Archaeology Group, and individual awards are sponsored by the Royal Archaeological Institute, Past Preservers, Archaeological Management Solutions (AMS), and University Archaeology UK and Archaeology and Palaeoecology Queens University Belfast.