President and Trustees
All CBA officers and trustees can be contacted here.
Find out more about standing for election as a trustee.
Patron
Our Patron was HRH The Prince Charles, Prince of Wales until his Accession as HM King Charles III
Honorary President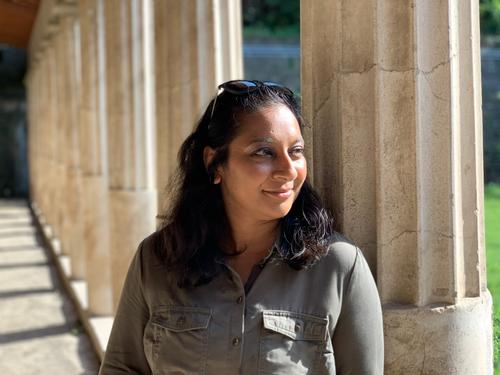 Our current president is public archaeologist and broadcaster, Raksha Dave.
Raksha is a Field Archaeologist, Public Archaeologist, and Broadcaster. A graduate of the UCL Institute of Archaeology, she has excavated on projects all over the world, as well as working as a UK-based commercial field archaeologist.
Passionate about work with communities and the public, she has worked with local authorities as well as managing community projects. With experience in time periods spanning prehistoric to the Second World War, Raksha has worked on various popular archaeology programmes including Time Team.
Raksha currently acts as an advocate and consultant for various arts organisations looking to broaden audience participation by finding ways to encourage diversity and inclusivity in their environments. She has previously been a CBA trustee and a patron for the Young Archaeologists' Club.
Honorary Vice Presidents
Dr Peter Addyman CBE, former Director of the York Archaeological Trust & former CBA President
David Baker, former Vice-President of the CBA
Professor Dame Rosemary Cramp CBE, Emeritus Professor, University of Durham & former CBA President
Professor Barry W Cunliffe CBE, Emeritus Professor, University of Oxford & former CBA President
Dr Philip Dixon, former CBA Honorary Secretary & President
Professor Peter J Fowler, Emeritus Professor, University of Newcastle upon Tyne & former CBA President
Frances Griffith, Devon County Archaeologist & former Honorary Secretary of the CBA
George Lambrick, former Director of the CBA
Professor Richard Morris OBE, former Director of the CBA
Paul Oldham, former Honorary Treasurer of the CBA
Professor Marilyn Palmer MBE, Emeritus Professor of Industrial Archaeology at University of Leicester
Dr Kate Pretty CBE, former CBA President
Dr Francis Pryor MBE, former CBA President
Mr Francis Taylor, long-standing CBA Trustee and member of the comittee of CBA wessex, and former Treasurer of the CBA
Honorary Secretary
Phil Pollard
Chair
Ken Smith
Vice-Chair
Prof Carenza Lewis
Other Trustees
Michael D'Aprix
Fiona Gale
Prof Keith Lilley
Dr. Kirsty McCarrison
Danika Parikh
Sefryn Penrose
Jeannette Plummer Sires
Prof John Schofield
Dr Alison Spaull
Honorary Members
Mrs Carol Anderson
Mrs Nancy Ball
Mrs Sheila Broomfield
Mr Roy Friendship-Taylor
Ms Phillipa Henry
Mr Peter Olver