It is one of the benefits of CBA membership, and is available via a print or digital subscription, and from high street newsagents.
CBA members: to access the digital edition, please click here and follow the instructions to register. You will need to use the email address you use to log in to the CBA site but can create a new password.

Regular features
---
Current Issue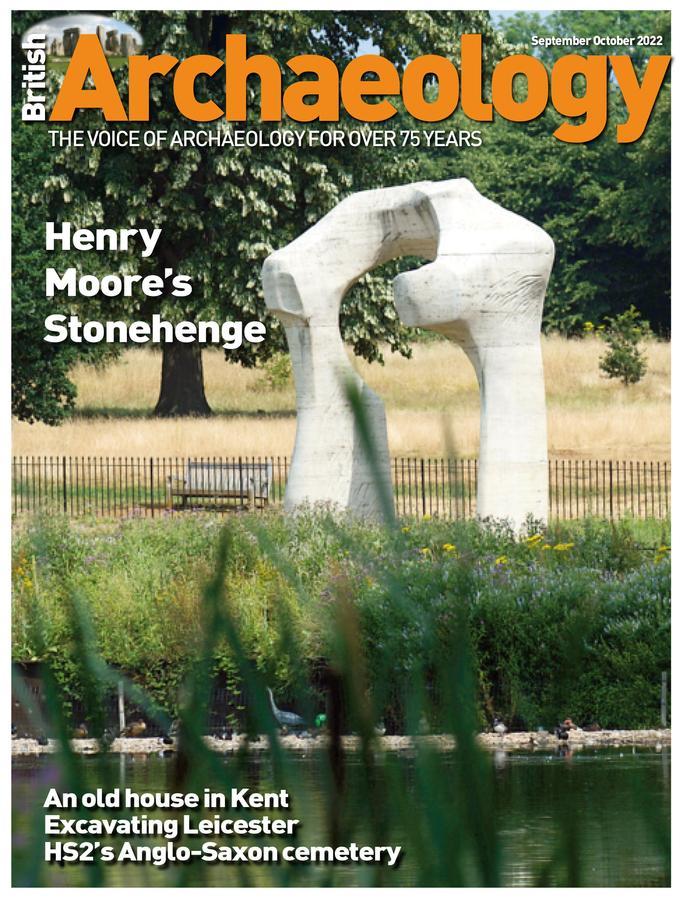 On The Cover
Henry Moore at Stonehenge

The great artist first saw Stonehenge in the 1920s in moonlight, but it was 50 years before he depicted the stones in a major set of lithographs. New research reveals the extent to which he used photography to inspire his compositions
CBA News
From the director

A CBA Festival of Archaeology walk along Hadrian's Wall
Casefiles

St Margaret's Works, Leicester
Archaeology Active

Celebrating communities – past & present
Archaeology 8-25

Activities, resources & training
Features
Excavating Leicester

Leicester archaeologists describe how decades of large-scale developer-funded excavations have revealed dramatic insights into the Roman and medieval city
The Cuilcagh to Cleenish project

A community scheme focused on local initiatives near Enniskillen led to a three-year, award-winning project that combined archaeology, architecture, history, folklore, arts and storytelling
The Abbey, the Old House & the Brewery

A restoration project in Kent brought building conservationists and archaeologists together at the former Boxley Abbey
The wealthy Anglo-Saxons of Wendover

An extraordinary cemetery has been excavated in Buckinghamshire ahead of the construction of HS2 lines
Other Regulars Include
News

Britain's oldest handaxes, and challenging UK-wide Neolithic journeys

The world in antiquity

When chicken first reached Europe, and an ancient fortress in Iraqi Kurdistan

My archaeology

Interview with David Wengrow, co-author of best-seller, The Dawn of Everything

Sharp focus

A church on Caldey Island

Greg Bailey on TV

Can we hope for more than tweaks to existing TV formats?

Books

The Staffordshire Hoard, and Neolithic stone balls

Spoilheap

What can we learn from an endangered museum in Cornwall?
British Archaeology is a bimonthly members' magazine that is also available in newsagents, and by subscription in print and digital
---
Discover articles for free

More information
CBA membership includes access to a searchable library of previous British Archaeology issues, dating back to 1995.
You can search our back catalogue for subjects that may interest you here.
Institutions such as schools, colleges, and libraries can now benefit from an institutional subscription to British Archaeology, giving all of their staff and students digital access to current and past issues of the magazine, providing more than 20 years of archaeological insight.
Institutional subscriptions are available on a wide range of devices and offer both IP authenticated and remote access. Tools such as an integral keyword search, bookmarking and extensive linking will allow users to use the subscription to enhance their study of archaeology.
Sign up here.
Reach our UK-wide and international audience of Council for British Archaeology members, British Archaeology Subscribers, Institutional subscribers, and retail customers by advertising in British Archaeology.
By advertising with us, you will be helping to support the Council for British Archaeology and our charitable aims.
Are you a provider of useful and appropriate archaeological services that could benefit our members? For more information, or to place an advertisement, click here.