British Archaeology Magazine
British Archaeology is our award-winning bi-monthly publication, published by the CBA, focusing on the latest archaeology news, discoveries, and research within the UK and from British Archaeologists working overseas. With articles from the CBA team, it is a great way to get to know the work we do.
It is one of the benefits of CBA membership, and is available via a print or digital subscription, and from high street newsagents.
CBA members: to access the digital edition, please click here and follow the instructions to register. You will need to use the email address you use to log in to the CBA site but can create a new password.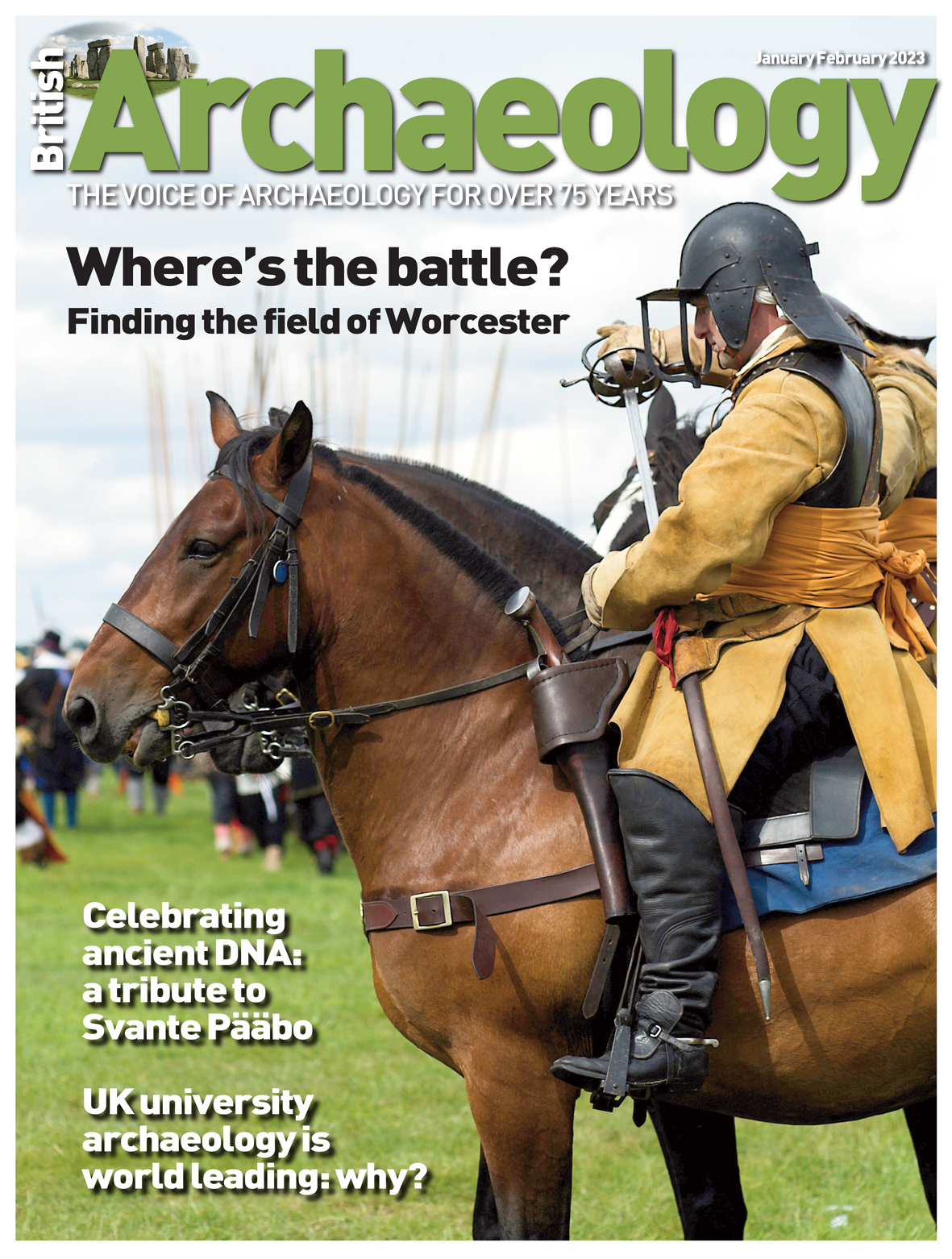 Current Issue
On The Cover
Where's the battlefield?
An unusual approach to seeking out a Civil War battlefield at Worcester led to the discovery of the ground, buried beneath the surface – complete with musket shot, priming flasks and horseshoes
CBA News
From the director
Neil Redfern tours the island of Jersey
Casefiles
Waterworks Cottage, Charlcombe, Bath
Archaeology active
An open-access excavation in Hull
Archaeology 8-25
Young Archaeologists' Club's annual Dig It! competition winners
Features
A tribute to Svante Pääbo
To honour Svante Pääbo's Nobel Prize for his work on evolution and the genomes of extinct humans, British Archaeology asked archaeologists and scientists to describe some of their new research using ancient DNA from UK excavations
The three old sheep of St Kilda
Rare British breeds favoured by archaeologists as possible representatives of prehistoric sheep owe their survival to a diaspora powered by aristocratic landowners
Impacting heritage, landscapes & lives
A special look behind the scenes at how British universities are making archaeology not just interesting, but relevant too
Other Regulars Include
News+
A lost mosaic, an odd engraving and archaeology in Ukraine
The world in antiquity
Carved trees, cat origins and the effects of climate change
My archaeology
Chris Evans, late of the Cambridge Archaeological Unit
Sharp focus
Haworth parsonage, West Yorkshire
Greg Bailey on TV
A volley of kings
Books
Celts, Normans and collecting stones from fields
Spoilheap
A research institute whose reality seems virtual
British Archaeology is a bimonthly members' magazine that is also available in newsagents, and by subscription in print and digital

Discover feature articles
On occasion, we provide open access to featured articles to support out wider advocacy work championing archaeology. Discover them below.
---
Regular features
Regular features highlighting the work of the CBA

More information
CBA membership includes access to a searchable library of previous British Archaeology issues, dating back to 1995.
You can search our back catalogue for subjects that may interest you here.
Institutions such as schools, colleges, and libraries can now benefit from an institutional subscription to British Archaeology, giving all of their staff and students digital access to current and past issues of the magazine, providing more than 20 years of archaeological insight.
Institutional subscriptions are available on a wide range of devices and offer both IP authenticated and remote access. Tools such as an integral keyword search, bookmarking and extensive linking will allow users to use the subscription to enhance their study of archaeology.
Sign up here.
Reach our UK-wide and international audience of Council for British Archaeology members, British Archaeology Subscribers, Institutional subscribers, and retail customers by advertising in British Archaeology.
By advertising with us, you will be helping to support the Council for British Archaeology and our charitable aims.
Are you a provider of useful and appropriate archaeological services that could benefit our members? For more information, or to place an advertisement, click here.