British Archaeology Magazine
It is available from high street newsagents, via a print or digital subscription, and is one of the benefits of CBA membership.
CBA members: to access the digital edition, please click here and follow the instructions to register. You will need to use the email address you use to log in to the CBA site but can create a new password.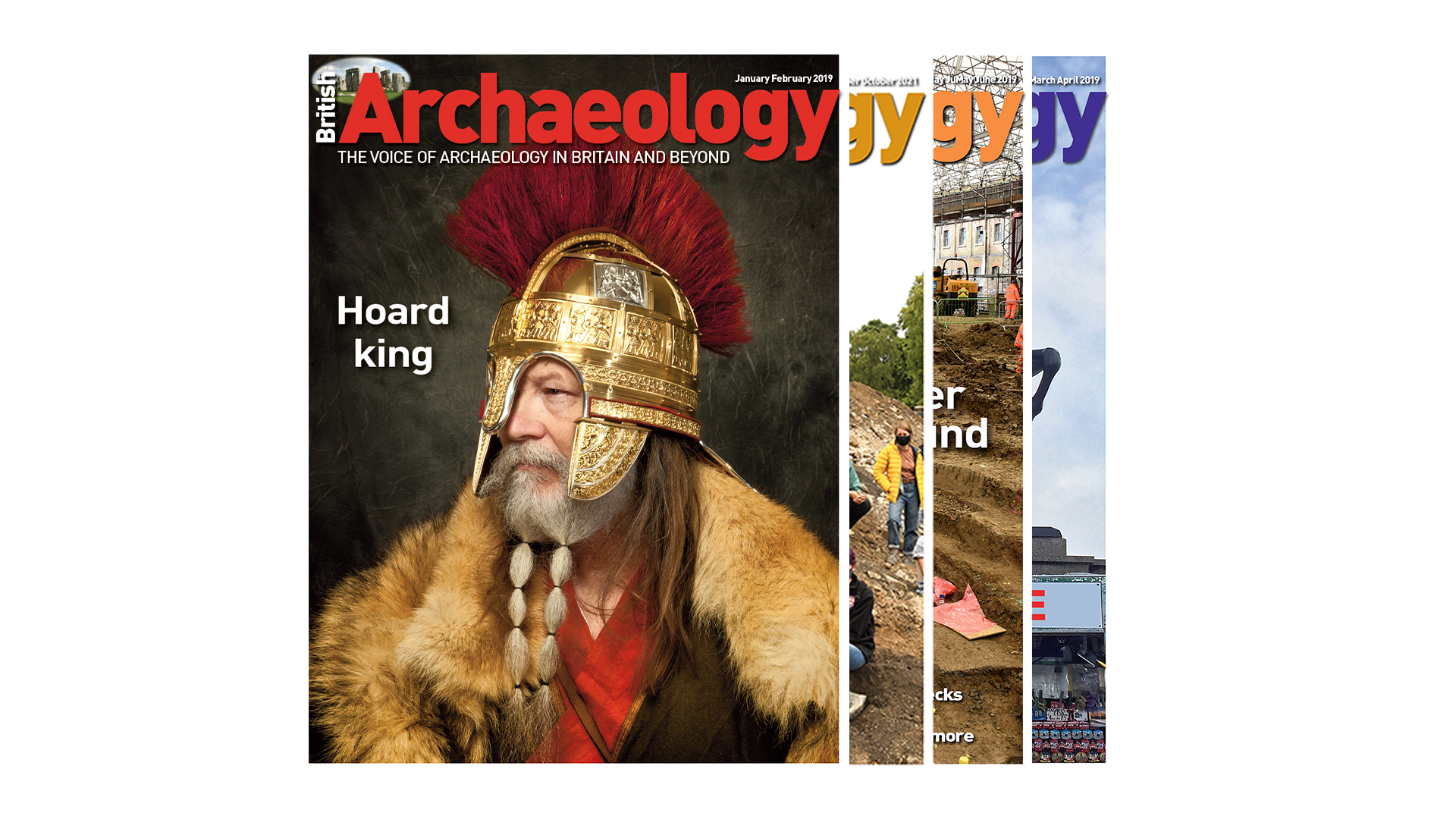 Current Issue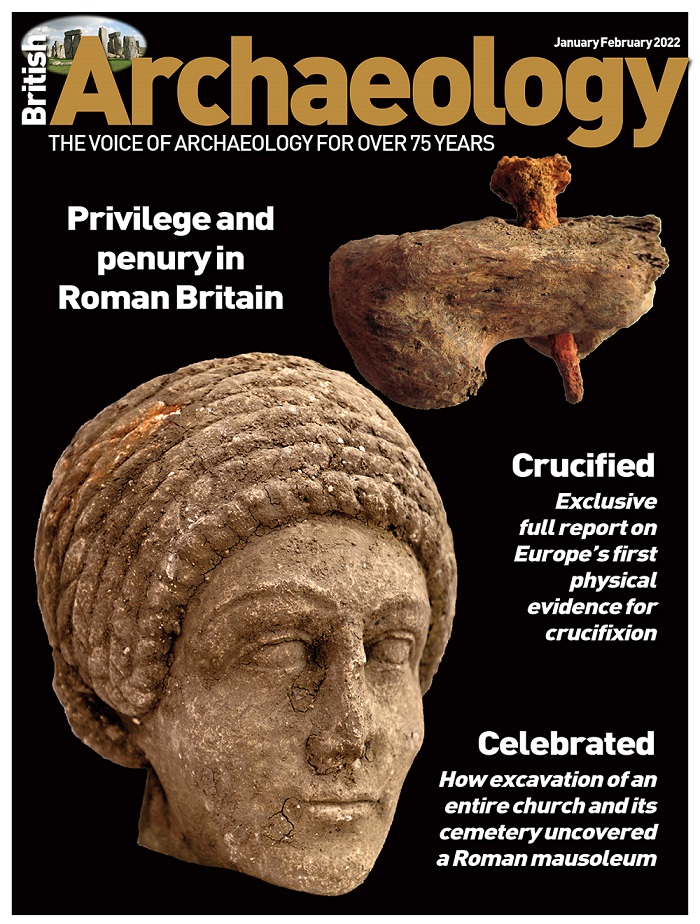 ON THE COVER
Privilege and penury in Roman Britain
Two excavations with stories of opposed social worlds: a crucified man, and a woman celebrated with sophisticated sculpture
CBA NEWS
From the director
The new freedoms of in-person meetings
Casefiles
Castle Hill Farmhouse, Bickenhill
Archaeology active
The CBA has a digital facelift
Archaeology 8-25
Pathways to a future with the past
FEATURES
Crucifixion in the Fens
A previously unknown Roman settlement found in Cambridgeshire has five small cemeteries. In one were the remains of a man with a nail through his heel. Exclusively for British Archaeology, David Ingham & Corinne Duhig report on the excavations, and what they believe to be extremely rare evidence for ancient crucifixion – and the first from northern Europe
Little church by the railway
Archaeologists have just completed the excavation of an entire church and its burial ground at Stoke Mandeville, Buckinghamshire. We describe the HS2 dig from its beginnings to the discovery of rare Roman sculptures and a mausoleum that was built over by a Norman church
Power for the past
National Grid is burying overhead electricity cables which run through some outstanding rural landscapes. John Boothroyd reports on a long trench in Dorset, which revealed a wealth of new archaeology.
Aerial archaeology online
Sally Evans, Simon Crutchley & Matthew Oakey introduce Historic England's project that allows us to see archaeological mapping and records derived from air photography and laser survey, on maps and satellite imagery, online for free
OTHER REGULARS INCLUDE
News
Priam exchanges gold for his son's body – in Rutland
+ Interior decoration at arena is a first for Roman Britain
News+
Ancient identities & tolerant futures
The world in antiquity
Mapping Karakorum, and the story of John Dee's obsidian mirror
My archaeology
Cameron Poole on the experience of excavating at Stoke Mandeville
Sharp focus
Mow Cop Castle, Cheshire
Greg Bailey on TV
David Olusoga and A House Through Time
Books
A history of humanity, and ancient settlement in the Western Isles
Spoilheap
Beware the purveyors of an Orwellian past
British Archaeology is a bimonthly members' magazine that is also available in newsagents, and by subscription in print and digital.
Past Issues
CBA membership includes access to a searchable library of previous British Archaeology issues, dating back to 1995.
You can search our back catalogue for subjects that may interest you here.
Institutional Subscriptions
Institutions such as schools, colleges, and libraries can now benefit from an institutional subscription to British Archaeology, giving all of their staff and students digital access to current and past issues of the magazine, providing more than 20 years of archaeological insight.
Institutional subscriptions are available on a wide range of devices and offer both IP authenticated and remote access. Tools such as an integral keyword search, bookmarking and extensive linking will allow users to use the subscription to enhance their study of archaeology.
Sign up here.
Advertising in British Archaeology
Reach our UK-wide and international audience of Council for British Archaeology members, British Archaeology Subscribers, Institutional subscribers, and retail customers by advertising in British Archaeology.
By advertising with us, you will be helping to support the Council for British Archaeology and our charitable aims.
Are you a provider of useful and appropriate archaeological services that could benefit our members? For more information, or to place an advertisement, click here.