Archaeology and Plastics: Can We Make Fieldwork More Environmentally Friendly?
When we think about archaeology and the environment, the impact of climate change on archaeological sites might spring to mind, or what the archaeological record can tell us about climate change over time. You may not automatically think about how environmentally friendly our fieldwork activities are.
Plastic is something that tends to have an important role to play on excavation sites or fieldwalking projects and many of us will have experience of using items such as finds trays, bags, sample buckets and labels, all made of plastic.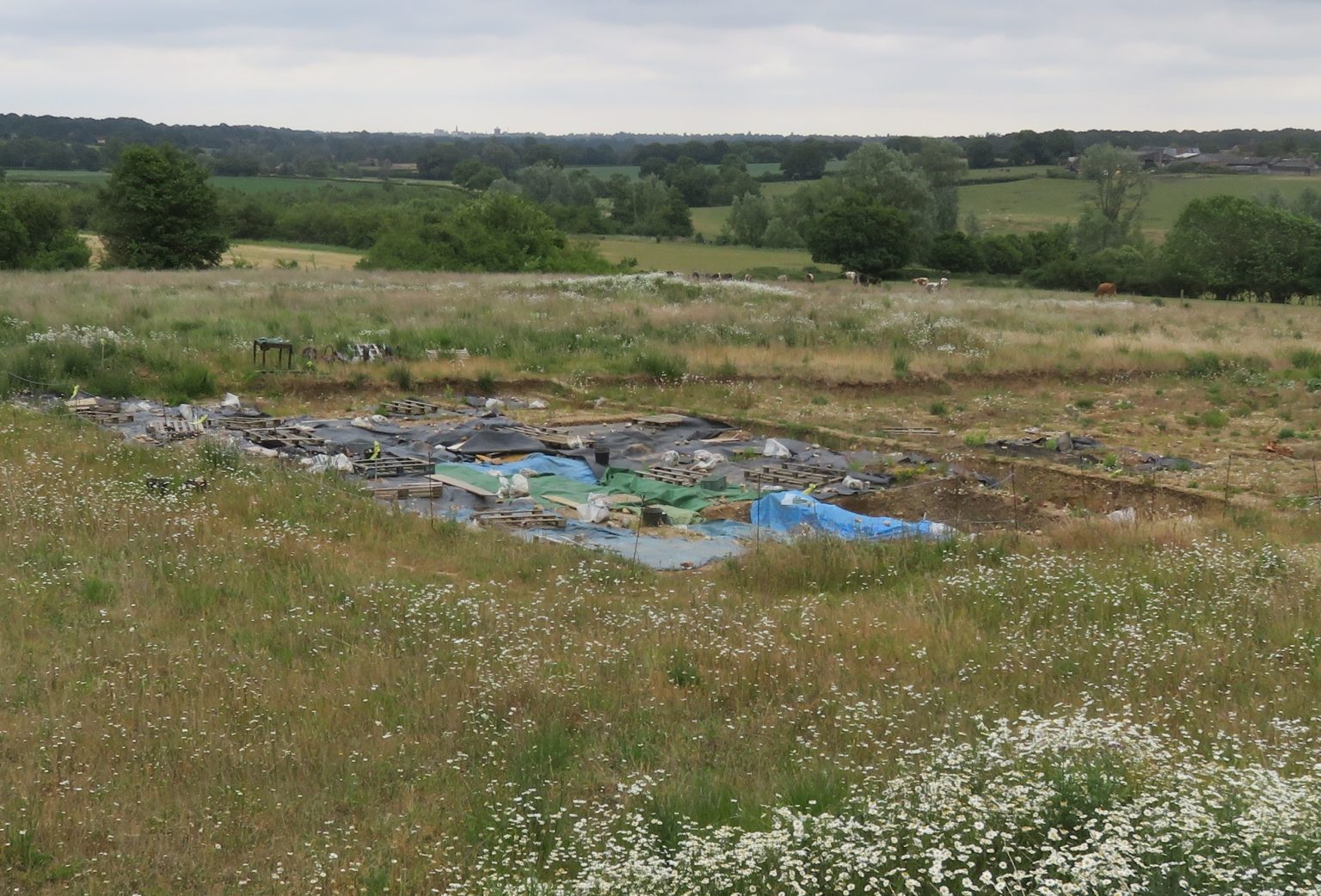 Fordham excavation, Phase 2 open area. The site is covered with plastic sheeting for protection. © Jonathan Oldham.
Are there ways we can reduce this impact on the environment through recycling, using different materials, or amending some of our processes? Many archaeologists are starting to think about this, but it's a challenging issue. The materials and techniques we use still have important criteria to meet in terms of the preservation of archaeological sites and artefacts.
While we often rely on plastics for their cost and convenience, they are not always as reliable as we'd like them to be. Jonathan Oldham from Colchester Archaeological Group explains the challenges their group face using plastics on site:
The Group has problems with the degradation of plastic sheeting and bags by ultra-violet radiation in strong sunlight.
We may be unusual in digging on Sunday, Tuesday and Thursday of every week, 51 weeks of the year, weather permitting. Our current excavation is in a field at Fordham, where field walking revealed a significant amount of Roman brick and tile. Subsequent geophysics surveys did not produce a clear pattern. Resistivity revealed ditches, and magnetometry a scatter of dark blobs, but no outline of a building.
Initial test trenches revealed some wall robber trenches and floor foundations of a Roman building. Money from a Mick Aston Archaeology Fund grant enabled the group to remove the topsoil from an area 40m by 25m (between the two most productive test trenches) in April 2016.
In order to keep the soil moist and prevent it from drying out too much, or becoming waterlogged, some plastic tarpaulins were purchased to cover the soil surface. These were supplemented by a donation of black rubber sheets that were surplus to requirements following a Community Excavation at Nayland. The sheets were weighted down with old pallets and large flint stones found on-site and were useful in suppressing weed growth.
The tarpaulins and rubber sheets were effective in their roles, though after three to four years the plastic tarpaulins were beginning to degrade due to strong sunlight and the action of strong winds. The rubber sheets have survived much better, particularly thick sheets (as used for pond linings), though strong winds have torn the thinner material.
The plastic tarpaulins are being removed and disposed of appropriately, as the excavation is nearing completion, and the work area has decreased in size. The rubber sheets remain in use, and appear to be the best solution to keeping the soil adequately moist and preventing weed growth on a long-term excavation.
We have a similar problem with plastic rubble sacks used for containing CBM. There is no nearby building for storage, so they are stored on site. They last about a year in the open, and deteriorate under the combination of UV radiation in summer and frost in winter. The plastic becomes brittle and flakes away.
Half of the sacks have been checked and sorted. At the beginning of this year, sacks of CBM retained for further analysis (particularly tegulae fragments) were stored on-site under a large black rubber sheet in the hope that they will not deteriorate so quickly. More recently, unchecked sacks have been collected and the contents transferred to new sacks to be stored under another black rubber sheet. Old sacks, and as many plastic fragments as possible, have been collected and disposed of appropriately.
It is difficult to think of an alternative to plastic sacks. I briefly considered paper potato sacks, but they will disintegrate in wet conditions.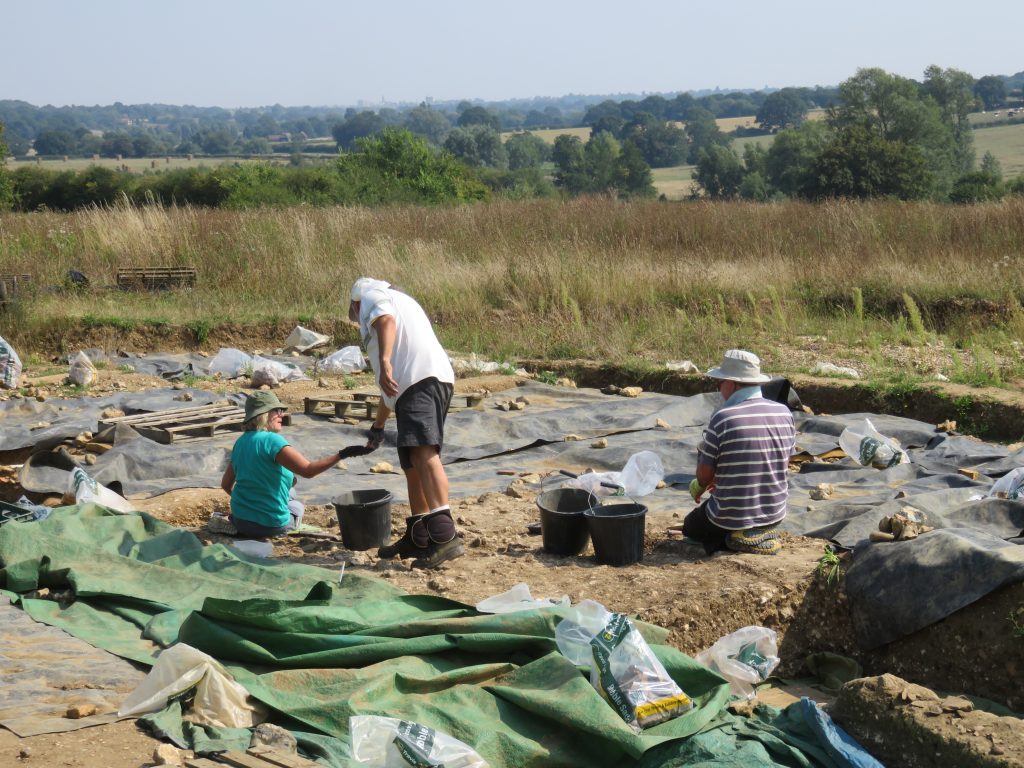 Nicolas Balbi, Penny Richards & Alan Chaplin working on the Fordham excavation site. The surrounding areas are covered by plastic sheeting. © Jonathan Oldham.
Can anyone help?
A couple of alternatives to plastic sheeting immediately spring to mind – synthetic UV resistant geotextile should have much greater longevity than plastic sheeting although may be more expensive and still have a negative environmental impact. Another alternative is jute matting, this is particularly good for protecting an excavation area for a relatively short period. Storing the CBM adequately might be more of a challenge, particularly with the lack of indoor storage space.
If you have any ideas that might help Jonathan and the Colchester Archaeology Group please let us know.
If you have tried using less plastic on-site or have tested out some other ideas to reduce your environmental impact on site please do share your experiences.