Open Access Article: Bootham Crescent - Sharing Memories, Shaping Space
The recent British Archaeology Magazine features a remarkable article about York's Bootham Crescent.
Bootham Crescent was York City Football Clubs' home for nearly 90 years until the club moved to a new stadium in 2021.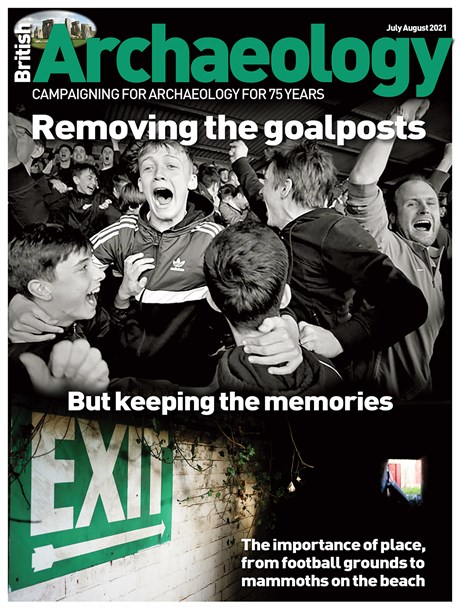 A project lead by the archaeologist Jason Wood, supported by Historic England and working with the football club, supporters and developers of the site Persimmon Homes, has been recording memories of the locally iconic place and helping to see the site's redevelopment reflects its history.
Recent excavations have brought along those with special attachments to the football stadium, including Lynda Bagley, a supporter who attended to see if she could locate her sister's ashes.
Her sister, Dawn Holtby, a long-time supporter of the club, passed away of cancer at the age of 49, and her ashes were placed in the home team goalmouth.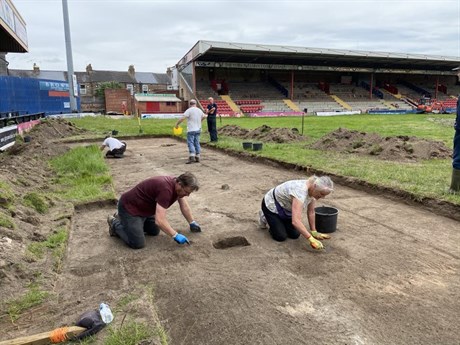 Image from left to right: Chris Fitton, a club supporter helping the excavation and Lynda Bagley. The round hole between the two is the location of Lynda's sister's ashes and the faint white line is the goal line showing as an archaeological feature cased by years of adding lime to mark out the pitch.
Once ashes have been recovered, they will be relocated to the memorial garden with the agreement of the families where they can be identified.
Bootham Crescent is a brilliant illustration showing how archaeology is more than discovering the past. Archaeology is about the contemporary places that we love and enjoy, allowing us to unlock community memories, leading to meaningful development that everyone can appreciate.
To support this amazing work and make it available to all, the CBA is pleased to make the British Archaeology article open access via our website.
You can read the full article 'Bootham Crescent – Sharing Memories, Shaping Space below.