Council for British Archaeology Announce Shortlist for the Marsh Community Archaeology Awards

The Council for British Archaeology (CBA) and Marsh Charitable Trust have announced the shortlist for the Marsh Community Archaeology Awards.
The awards showcase excellence in archaeology, celebrating the passion and dedication of individuals and the outstanding contribution of archaeology projects which create social, cultural and environmental benefit.
The awards have four categories:
Community Archaeologist of the Year
Community Archaeology Project of the Year
Young Archaeologist of the Year
Youth Engagement Project of the Year.
After a successful nomination process, that saw a whole host of inspirational projects and individuals highlighted for their achievements, the shortlist has been finalised.
The shortlist is as follows:
The Awards Ceremony
The winners of each category will be announced at the launch event of the CBA's Festival of Archaeology taking place at Segedunum Roman Fort, Newcastle on Saturday 16th July.
After the ceremony we will be joined by Dr Chloe Duckworth for a talk exploring community archaeology.
The event will be live streamed via the CBA YouTube channel: click here.
---
There and Back Again: Falling Back in Love with British Archaeology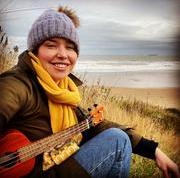 Blurb: I didn't mean to be an archaeologist. Growing up, I didn't even know it was an option, and even when I began a degree in the subject, I was mainly keen on travel. And travel I did, working on archaeological sites in Greece, Iran, Italy, and Spain. It was a privilege, and I never thought I'd look back. Until I did.
Community archaeology, via my role in The Great British Dig, made me fall in love again, with the wonderful diversity of British communities and British archaeology, and heck, even the somewhat less wonderful diversity of the British weather. And woven through all of that is a real engagement between paid archaeologists and those who undertake it in their spare time.
Some of the best archaeologists I have ever worked with were amateurs, or had come to the profession later in life. In talking about my own journey, I will also be talking about theirs: the people who have been so influential on my path. They are all different, but they are us: the eccentric, interesting collection of oddballs that make up archaeology.
I wouldn't change it for the world.
---
Find out how to join us on July 16th here: