The Dig: A Sutton Hoo Supervisor Comments
Eric Houlder LRPS. was a Supervisor at Sutton Hoo from 1967-9. He is a Past Chair and current Trustee of CBA Yorkshire. Here are Eric's fascinating reflections on his time at the site, and how the movie The Dig used a measure of artistic license to retell some parts of the story…
After over a century of movies in which actors and actresses play the parts of real characters, we should be familiar with screen characters not looking quite like their originals. However, The Dig, based on the novel of the same name by John Preston, takes this to extremes.
The Dig takes the story of the discovery of the Sutton Hoo ship burial, and turns it into a novel whilst altering some characters, disappearing others, demonising a couple, and compressing the events of two summers into one. Because the film is based on a novel this is, apparently, perfectly acceptable.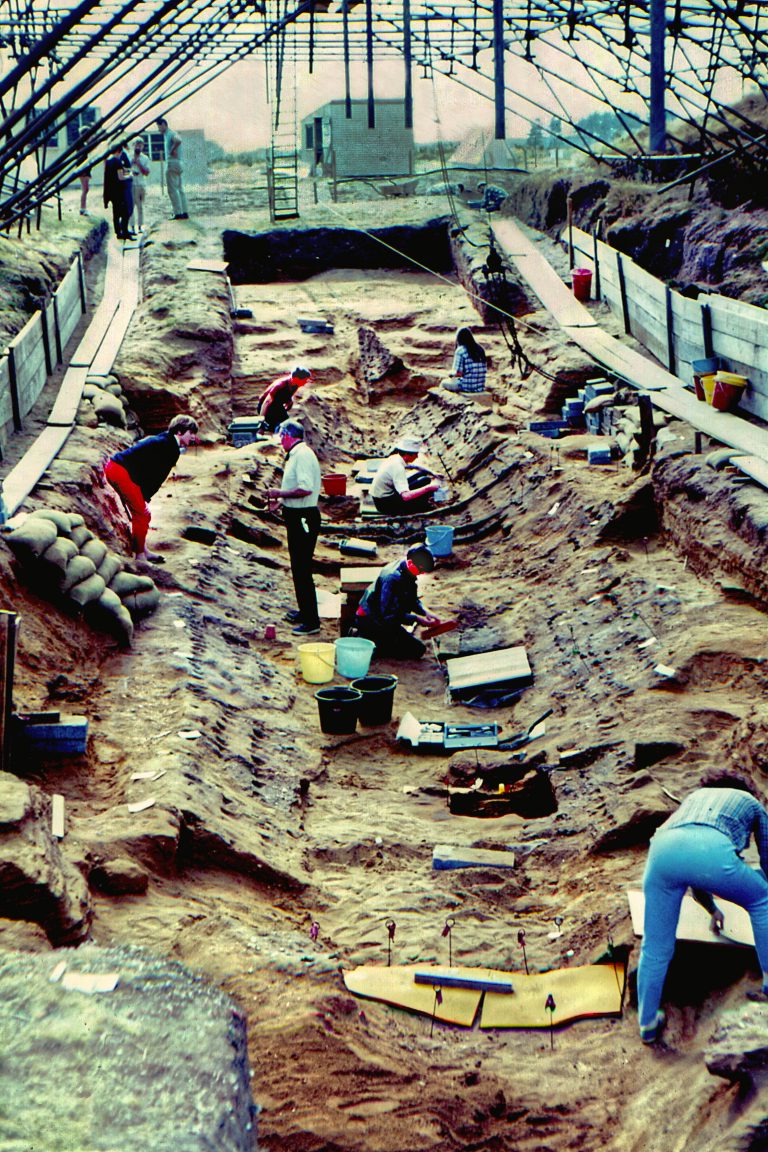 My picture of the ship on 22 July 1967, the day I joined the site. Looking forward from near the stern. I worked on a part close to the port bow. Dr. Bruce-Mitford is standing in the white shirt. © Eric Houlder LRPS. Courtesy, the Trustees of the British Museum.
As a young amateur archaeologist of some competence, I was one of a number of like-minded people invited to participate in the second dig on the famous site. With the end of the war, the fragmentary treasures had been unpacked from their storage in the Aldwych tube station in London, returned to the British Museum lab, and conservation begun. It soon became apparent that the shield, the helmet, and other things were incomplete, whilst some of the drawings of the ship were missing as a result of enemy action. There was only one way to correct these deficiencies: the site must be re-excavated.
Dr. Rupert Bruce-Mitford, head of the relevant BM department led the project which began in 1965. By 1967 with work on the badly eroded ship outline coming to a close, it was time to begin excavating the spoil heaps and the remains of the overlying mound which had originally covered the burial. In charge of this aspect of the work was respected archaeologist Paul Ashbee, ably assisted by his wife, Richmal. Taking advice from colleagues, they sent invitations to a number of people like me. This was done in confidence in the early months of 1967 so that when, later in the summer, a live mortar bomb was found on site it came as a shock to the national press that Sutton Hoo was being dug again. Though there was little interchange between the conservators and the archaeologists, one or two of the latter were allowed to work on the ship. I was lucky to be one of them.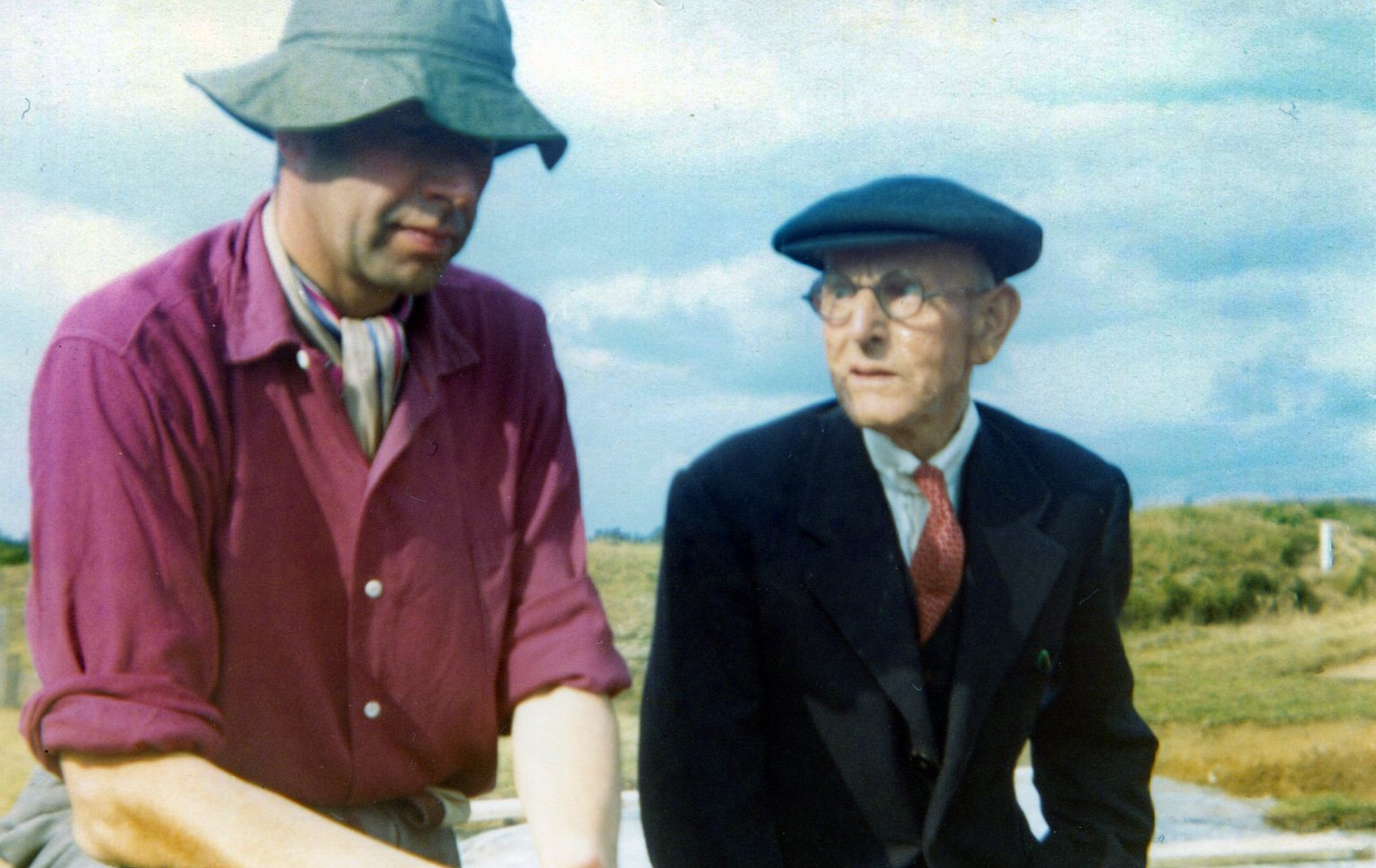 Paul Ashbee with Basil Brown taken on-site in August 1967. Credit: Kate Massey (Paul's daughter). Taken by Rhoisia Copinger-Hill.
Sadly for the site, it had been used as an army range during the war. Bren carriers had run through the mound, and live ammunition fired on, into, and over it. The ship outline was only protected by grass sods and brushwood spread on it on the day war was declared. It suffered badly, and so did the mound and spoil heaps. At the beginning of the new project, the ship depression was covered in a large nylon canopy and the ship was carefully re-excavated by BM conservators. Phillip's grid was re-instated and we carefully excavated the spoil heaps, each find, including many live rounds, unexploded mortar bombs and shrapnel, was recorded in three dimensions.
The conservators finished their work by taking soil samples from the burial chamber area, whilst we archaeologists spent the remaining seasons on site (1968-9-70) carefully dissecting the mound and surviving spoil heaps.
As a supervisor, I was pleased and rather awed to be allocated Rhoisia and Bridger Copinger-Hill as part of my team. These identical twins had been personal friends of Mrs Pretty, and had worked under Basil Brown and Charles Phillips in 1939. At first, reserved, they eventually confided in us (fellow supervisor Peter Rooley, Joan my wife and I, and Peter's fiancée Barbara Stevenson) and spoke of their experiences on the original dig. They even showed us, under a promise of strict secrecy, a shoebox full of clench nails 'recovered' during the covering of the ship, which they had organised with Basil Brown.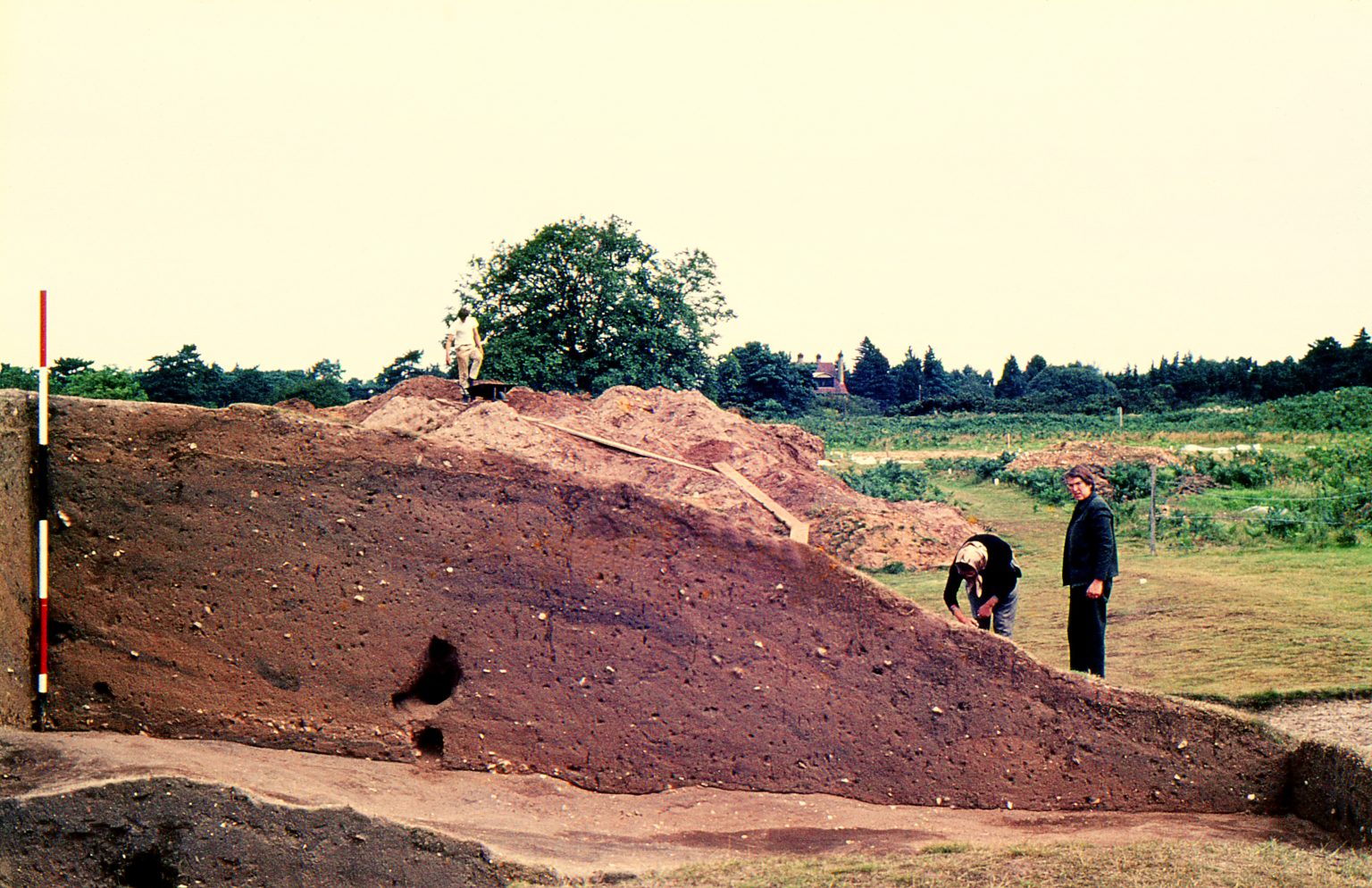 The Copinger-Hill sisters by a section they had carefully prepared for recording. In the foreground is the original surface of the NE corner of the mound, on which Phillips and I stood on that memorable afternoon. Behind, is Sutton Hoo House. © Eric Houlder LRPS. Courtesy, the Trustees of the British Museum.
Other encounters included Basil Brown himself and Charles Phillips. Brown was somewhat shorter and slighter than I, and broad Suffolk in his speech. He always wore a flat cap and was rather diffident in his manner. He visited the site several times. I last met him at West Stow in August 1971. At that time he was the same age as I am now; how time flies. Ralph Fiennes was convincing in his portrayal, though bigger than I remember Brown.
Phillips, in contrast, was much taller than I was, making him about six feet two inches if not taller. He was well built and certainly not overweight. He spent a great part of one afternoon standing with me on the NE tail of the mound discussing his work there, and mine. I found him polite, respectful, and suitably professional in walking carefully on trowelled surfaces, after asking permission, of course. He was nothing at all like the short, overweight, and overbearing bully of the film.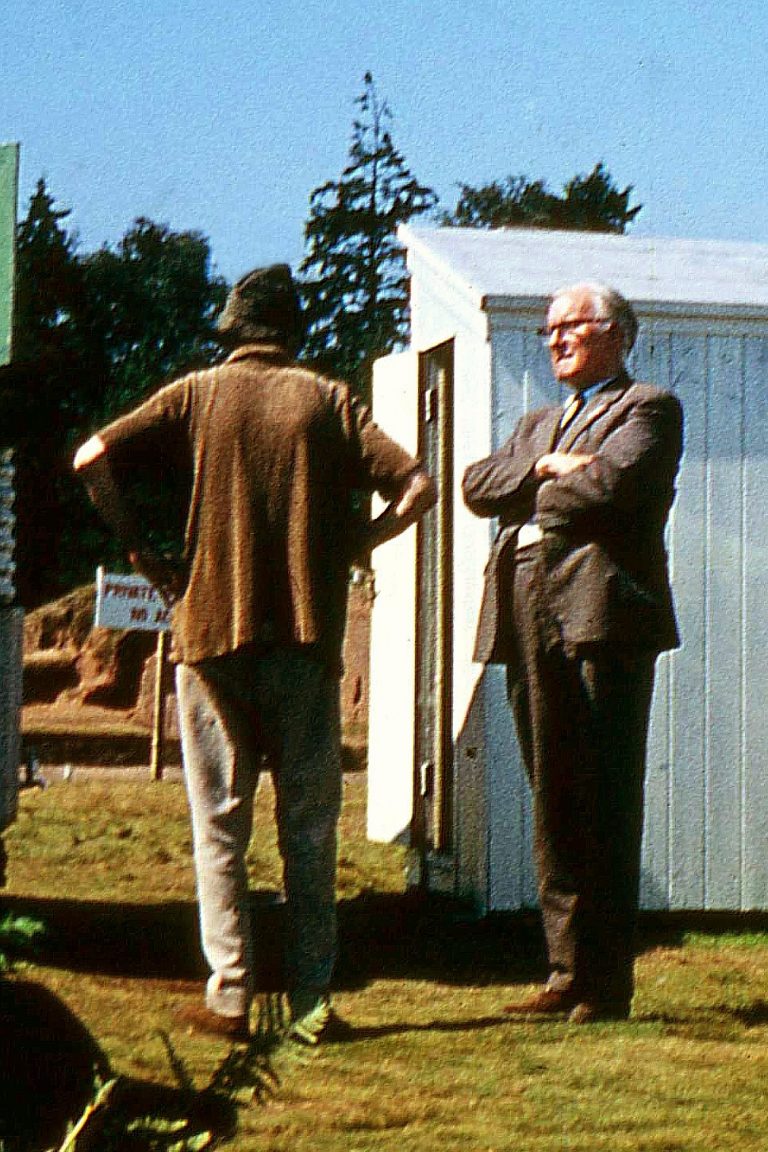 Paul Ashbee (L) and Charles Phillips (R). Both were tall men. Picture, the late DC Lodge.
As a site photographer, I was most disappointed in the film's replacement of two talented Associates of the Royal Photographic Society, Mercie Lack ARPS and her colleague Barbara Wagstaff ARPS, by a fictitious nephew of Mrs Pretty. A nephew with superpowers, like an ability to carry a complete darkroom as well as camping gear and himself on a small motorbike!
I was two when Mrs Pretty died, so never met her. However, many excellent photographs and a really good oils portrait survive, so there is really no excuse for getting her age and appearance so wrong.
There are a number of anachronisms that responses to my original letter to The Times (1 February) elicited. But as archaeologists, did we all notice that in the film, all the diggers had trowels exhibiting exactly the same degree of wear? This, in spite of pre-war trowels being a slightly different shape to modern trowels. I've got one in the garage to prove it, given to me by a late friend who once dug with Wheeler.
In spite of all this, we really enjoyed the film. However, it is important to stress what really happened so that modern viewers do not receive a false impression of an iconic excavation.
Eric Houlder LRPS. Supervisor Sutton Hoo 1967-9. Past Chair and current Trustee, CBA Yorkshire. Excavator and site photographer.