Letter to a young archaeologist, April 2022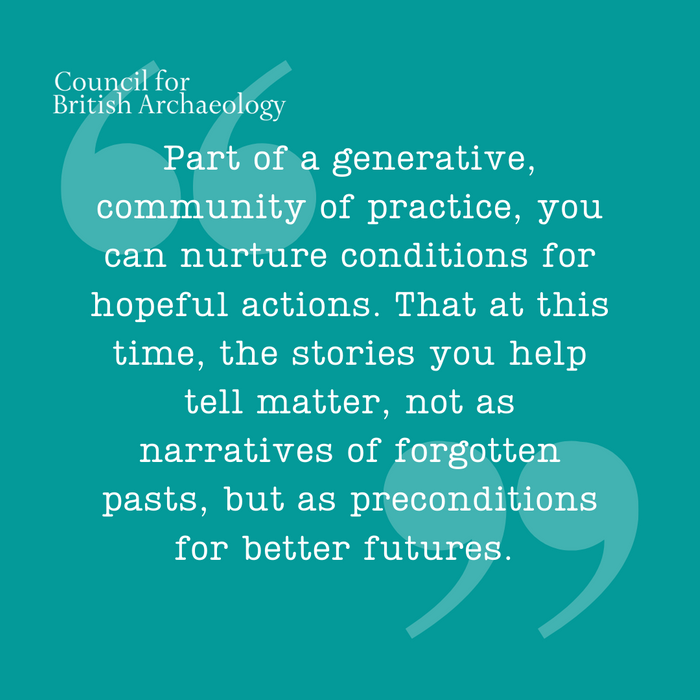 Dear Young Archaeologists,
How can I write, at this time, with hope for your futures?
Let's begin with one story.
I was born on the day when people first walked on the moon. Growing up in exceptionally privileged times, I was brought up to believe that, with clever technologies, things could always get better, or if we just worked hard enough, progress was possible. The first in my family to go to University, I arrived with no sense of what the rules of engagement were, and like many, stumbled through. An inquisitive mind, my love for prehistory, and simple joy of working outdoors as part of a team kept me in a sector which was going through huge changes in the UK. Legislation brought together the need to 'protect' archaeological assets with the 'market' to ensure this process was efficiently executed. Professionalisation and profit, meant 'opportunities for all' and we were happy when a site report was published in an academic journal. But even then, something niggled. When I supported volunteers on research excavations, or helped train students, I would always see the power of collaboration, discovery and learning. And the following week I would be in an anywhere field, among seas of yellow Hi-Vis, where technical recording for a client was considered more important than wider participation by communities. And for decades, Health and Safety or Client Confidentiality were the only reasons given why we couldn't do things differently.
In parallel, with support of the National Lottery Heritage Fund (and other funders) from 1994 there emerged a different vibrant area of practice which might be described by many now as Community Archaeology or Community Heritage. The intentional investigation of archaeological sites to provide wider benefits for people and society, whether to support inclusion, health and wellbeing, skills and learning, or place making and interpretation, there was always a wider purpose to our work. Archaeological activation as a creative socially engaged process has been happening for decades through the third sector. And still I can't understand why, when so much public benefit (social & cultural value) can be generated at the trowel's edge we accept second best for our practice? When we know how transformative the magic of participation can be, in my naive idealism, I still ponder, why is it not by now the expectation that every archaeological intervention should comprise activation for and with the communities closest?
And now, living near Glasgow, still haunted by post-industrial landscapes, riddled with post COP26 anxieties of uncertain futures, confronted by realities of war in Europe - with a start I find myself back in the early 1980's, memories of city centre riots, CND protests and brutally policed picket lines - and a deep sense of what was just.
And that is my hope, that you can learn from our mistakes, and understand the importance and urgency of your practice at this time, not as an exercise in understanding the past or in producing a record of sites destroyed by economic development, but rather standing as an activist creative facilitator who can help make a difference. From this stance, you can, and should demand more of our profession: is it unjust not to actively include communities in the investigation of a common good resource? Is it unethical not to maximise public benefit for the loss of a finite resource? As global citizens, within different communities of interest, your practice can be firmly based on your sense of and care for place. Part of a generative, community of practice, you can nurture conditions for hopeful actions. That at this time, the stories you help tell matter, not as narratives of forgotten pasts, but as preconditions for better futures.
Wishing you well on your journey,
Gavin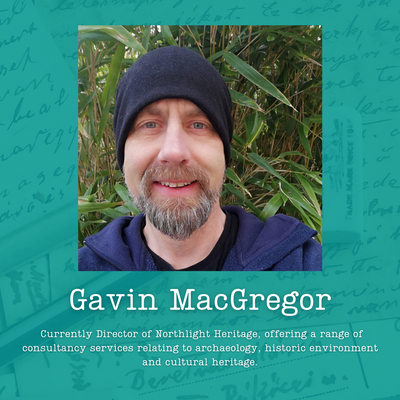 Gavin completed a BSc (Hons) in Archaeology at University of Glasgow, since which he has worked as an archaeological practitioner in Academic, Developer Funded and Third Sector contexts.
He is currently Director of Northlight Heritage, offering a range of consultancy services relating to archaeology, historic environment and cultural heritage, but also actively designing and developing a range of outcome focused community based projects.
Having also developed a creative practice he also actively explores the relationships between art and archaeology: https://heritagelandscapecreativity.wordpress.com/